U utorak, 11.06.2019. godine, na Velikoj sceni Bosanskog narodnog pozorišta Zenica, djeca 7 vrtića Ustanove povela su roditelje i goste na nezaboravno putovanje svijetom na tradicionalnoj godišnjoj završnoj manfestaciji Ustanove pod nazivom "Djeca i mašta mogu svašta.
Voditelji manifestacije Zara Muharemović i Edy Džumhur na samom početku pozdravili  su prisutne na bosanskom i engleskom jeziku;
DOBRO VEČE I DOBRO NAM DOŠLI!
GOOD EVENING AND WELCOME!
"DJECA I MAŠTA MOGU SVAŠTA" JE GODIŠNJA MANIFASTECIJA JAVNE USTANOVE PREDŠKOLSKI ODGOJ I OBRAZOVANJE ZENICA.
"CHILDREN AND FANTASIES CAN DO ANYTHING" IS AN ANUAL EVENT OF PUBLIC PRESCOOL IN ZENICA.
A VEČERAS VAS VODIMO NA NEOBIČNO PUTOVANJE OKO SVIJETA.
TONIGHT WE ARE TAKING YOU ON ANUSUAL YOURNEY AROUND THE WORLD.
NAŠI KORACI JESU MALI, ALI NAŠA SRCA SU VELIKA.
OUR STEPS ARE SMALL BUT OUR HEARTS ARE BIG.
U NAŠIM SRCIMA JE MNOGO LJUBAVI ZA SVE LJUDE SVIJETA I RAZLIČITOSTI MEĐU NAMA.
IN OUR HEARTS THERE IS MUCH LOVE FOR ALL PEOPLE AND DIFFERENCES BETWEEN US.
NA POČETKU VAS VODIMO U DALEKI JAPAN. A POSJETIĆEMO I AUSTRIJU, ITALIJU, GRČKU, RUSIJU,
AT THE BEGINNING WE ARE TAKING YOU TO FAR JAPAN. WE ARE ALSO GOING TO VISIT AUSTRIA, ITALY, GREECE, RUSSIA, TURKEY, ROMANIA, PERU, MEXICO, CHINA, UNITED STATES OF AMERICA AND WE ARE GOING SING IN ENGLISH.
PA KRENIMO.
SO LET'S GO.  
Djeca 7 vrtića tradicionalnim plesovima i u tradicionalnim nošnjama, odvela su sve prisutne u Japan, Austriju, Italiju, Grčku, Rusiju, Tursku, Rumuniju, Peru, Meksiko, Kinu, Sjedinjene američke države, a u najavama svake tačke upoznali nas sa znamenitostima pomenutih zemalja.
Djeca su takođe otpjevala i tri pjesme na engleskom jeziku te na kraju manifestacije na sceni zajedno otpjevali pjesmu "Hello to all the children of the world"  uz odjavu:
PUTOVASMO I BLIŽE I DALJE I UPOZNASMO RAZLIČITE KULTURE I OBIČAJE.
WE TRAVELED FAR AND WIDE AND WE MET DIFFERENT CULTURES AND CUSTOMS.
I VRATISMO SE TAMO GDJE JE NAJLJEPŠE, KUĆI.
AND WE CAME BACK TO THE MOST BEAUTIFUL PLASE, HOME
. DO NEKOG NOVOG PUTOVANJA, DOVIĐENJA I VOLIMO VAS.
UNTIL NEXT TIME, GOODBYE AND WE LOVE YOU.
A SADA POZIVAMO SVU DJECU NA SCENU DA ZAJEDNO OTPJEVAMO PJESMU HELLO TO ALL THE CHILDREN OF THE WORLD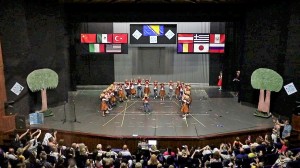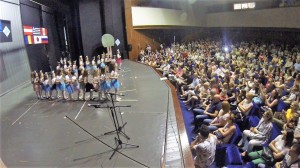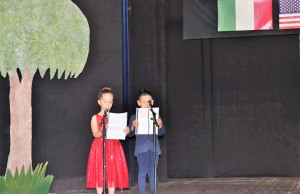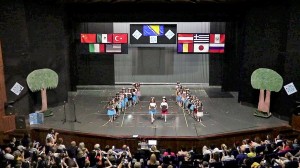 Galerija fotografija na fb linku JU Predškolski odgoj i obrazovanje Zenica  
https://www.facebook.com/pg/zenickivrtici/photos/?tab=album&album_id=2162506920522797